BOARDING INFORMATION
PetStar Animal Care offers a unique boarding experience for your pet. We provide exceptional customer service and high-quality boarding at a state-of-the-art facility. This gives your pet a home away from home!
Fresh linens are provided throughout your pet's stay. Your pet receives at least twice-daily room service and outdoor play time. We are happy to feed a special diet if provided; otherwise, we serve all guests high-quality Hill's Science Diet products.
PetStar operates a temperature- and humidity-controlled boarding facility. An exhaust fan helps to maintain a fresh air exchange for the comfort of both canine and feline guests. PetStar uses an Aqua-Air wet/dry vacuum system that promotes a clean and disinfected environment. This vacuum system and our hard working staff help keep away unwanted visitors, such as bacteria, viruses, intestinal parasites, fleas and ticks.
View Our Boarding Form
View Our Boarding Guest Registration
View Our Boarding Brochure
---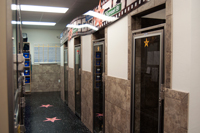 Canine Deluxe Boarding
PetStar offers a spacious canine boarding area that includes 16 deluxe suites equipped with Kuranda bedding and televisions and 1 presidential suite.
---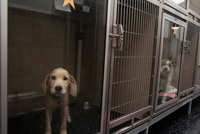 Canine Bunks
PetStar offers 20 spacious canine bunks. Your pet will enjoy the soft, thick fleece bedding in our clean and comfortable bunks.
---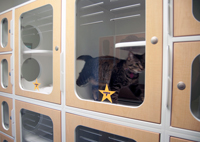 Feline Condos
PetStar gives our feline friends a separate, soundproofed room. It features natural lighting and a television for their viewing pleasure.
---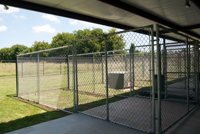 Play Yards
PetStar has three secure, spacious and clean play yards for our boarders to exercise or just lounge in the sun! We also have large, covered runs where pups can play on rainy days.
---
Check In and Out
What to Bring for Check In
Requirements
All guests must have up-to-date vaccinations and proof of both current intestinal parasite screening and veterinary examination (within six months). All pets undergo a complimentary flea and tick screening. If any are found, your pet will be treated before entering the boarding facility at your expense. Upon admission, your signature is required on the boarding agreement that signifies your acknowledgement, awareness and acceptance of PetStar's boarding policies.
Cats:
Feline boarders must be up-to-date on RCCP, leukemia and rabies vaccinations (within 12 months). They must also have records of a negative intestinal parasite screening within six months, and record of at least one negative FeLV/FIV test.
Dogs:
Canine boarders must be up-to-date on DHPP, leptospirosis, and rabies vaccinations (within 12 months). The Bordetella vaccination is required every six months. They must also have record of a negative intestinal parasite screening within six months.
As of August 1, 2017, we are requiring the Canine Influenza vaccine (A 2-Part Vaccine; the initial vaccine & booster 2-3 weeks later). The booster must be given at least 1 week prior to boarding.
We apologize if these requirements are an inconvenience to you; however, these protocols have been put in place to ensure the health and well-being of all our boarding guests.
Get a complimentary HydroSurge bath with a five-night stay!
Safety and Security
PetStar Animal Care is monitored by a 24-hour security system. We also have healthy pet policies in place to safeguard all of our guests. Should a medical problem arise during your pet's stay with us, we will immediately contact you (or your emergency contact) and the veterinarian on staff to begin proper treatment.
To learn more about the PetStar boarding experience, call 318-742-8002, or stop in for a visit. Ask a PetStar team member about our multiple pet discounts and special extended stay services!